Violets are blue
No, wait. You have white roses, pink ones, orange ones, and yellow ones. So that age-old saying is wrong, or should strictly be used for purposes that defy logic. And speaking of things denying logic, cue the drumrolls, and lift the veil, presenting to the ladies, gentlemen, or, just fellow humans, the yellow watermelons.
That's right, you heard it absolutely right, the yellow watermelons.
Personally, I am not a fan of yellow, the color just doesn't agree with my eyes, but don't we always know more about the things we dislike? Hence, my curiosity into watermelons that you slice open and see yellow flesh inside.
I don't know about you, but I grew up waiting for summers to roll by, and sweet, juicy, red, red watermelons being sold on carts. And now, they tell me you have them in yellow, as well? So, I did, a little bit of digging around, and lo and behold, we've got you an entire article about Yellow Watermelons!
Red vs Yellow Watermelons
Before we get to the difference, yellow watermelons are also known as golden watermelons, which is fitting, given to their perfect honey-colored appearance. They are also called the desert king watermelons, due to their geographical existence.
Yellow watermelons have a thicker, firmer green rind than red watermelons and are rectangular to oval in shape. The flesh ranged in colour from pale yellow to gold and included huge, tasty brown or black seeds (it could be seedless too). Furthermore, the flavour of these yellow-fleshed watermelons is sweet with delicate honey undertones.
Yellow watermelons appear identical to pink watermelons on the outside, with the same striped green rind. 
The difference in their colors is attributed to the difference in the chemical elements that they possess.
Traditional watermelons are pink because of lycopene, the same antioxidant that turns tomatoes and grapefruits red. Yellow watermelons, on the other hand, lack lycopene and so never turn reddish.
Surprisingly, yellow watermelons were grown before pink watermelons. Yellow watermelons were first grown in Africa over 5,000 years ago and went through centuries of selective cross-breeding for texture, color, and sweetness before any pink variety appeared. The fruit naturally became redder and redder as the lycopene concentration of hybrid cultivars increased over time.
Taste of a Yellow Watermelon
Aside from the obvious colour difference, yellow and pink watermelons have slightly different flavours. Yellow variants are often sweeter and more honey-like than pink varieties. Both varieties are seeded and seedless (due to natural cross-breeding) and can be used interchangeably in fruit salads, smoothies, desserts, and other summertime delights.
In terms of nutrition, both varieties are high in vitamins A and C. While weak in lycopene, yellow watermelons make up for it in beta carotene, a powerful antioxidant that protects against cancer.
Let's be honest, the last time I heard as much as this about chemicals and vitamins was when I did the chapter on balanced diet in middle school.
Different Types of Yellow Watermelons
Desert King: This type is orange in color, similar to cantaloupe, but has a crisp texture similar to watermelon.
Yellow Petite: Also known as a personal watermelon, Yellow Petites weigh only 4 to 7 pounds and have a high sugar content.
Yellow Crimson: On the outside, this variety looks identical to Crimson Sweet (typical pink watermelon), but it has bright yellow flesh and tastes even sweeter.
Yellow Doll: This early-maturing melon weighs about 5 to 7 pounds but tastes delicious.
Buttercup Yellow Melon: This seedless, hybrid species features rich yellow flesh and a high sugar content.
Pros and Cons of Yellow Watermelon
With no genetic modifications, yellow watermelons are one of the oldest and most natural watermelons.
Help with Chronic Disease Management
According to study, watermelons may help treat and lessen the risk of cardiovascular disease, diabetes, cancer, obesity, and other age-related disorders. These therapeutic advantages are attributed to the presence of phytochemicals such as lycopene, citrulline, and other polyphenolic compounds. Furthermore, watermelon eating has been linked to weight loss. L-citrulline (a non-essential amino acid) may help people improve their workout performance and recovery.
Help Reduce CVD Risk
Improved cardiovascular health has been related to yellow watermelon. It has been found to cut LDL cholesterol and triglycerides, enhance HDL cholesterol, and reduce inflammation in patients at risk of cardiovascular disease. They are also high in vitamins A and C, which aid to reduce inflammation and boost the immune system.
Help Keeps Your Gut Healthy
Probiotic activity against Lactobacillus rhamnosus and Bifidobacterium bifidum is highest in yellow watermelon skin. Yellow watermelons contain both water and fibre, which are both necessary for intestinal health. Because of these two characteristics, yellow watermelons are effective in preventing gastrointestinal pain, ulcers, and constipation. Furthermore, yellow watermelon's high water content may help you keep hydrated throughout the day.
Aids in Weight Loss
Yellow watermelon, with a calorific content of 46 calories per cup portion, aids in weight loss when consumed in moderation.
Yellow watermelon's high water content (about 92 percent) aids in weight management by reducing overeating and improving digestion and nutrient assimilation.
Yellow watermelon contains arginine, which assists with weight loss by reducing stored fat in the body.
Yellow watermelon contains dietary fibers that provide fullness to the stomach, control the urge to eat again and again, and thus control overeating, which is a major cause of obesity.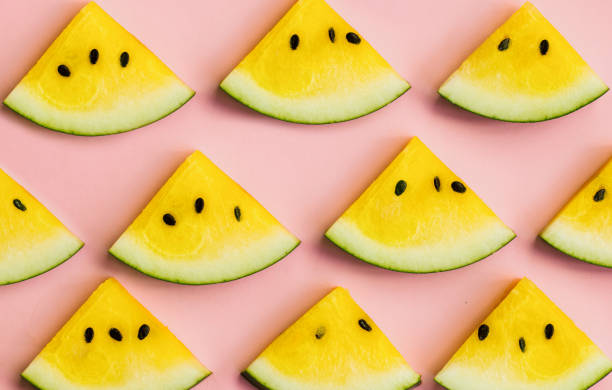 Side Effects of Consuming Yellow Watermelons
Diabetes- Yellow watermelon's low glycemic load improves with blood sugar management. However, it has a high glycemic index of 72. Due to its high glycemic index, consuming too much yellow watermelon can cause symptoms such as shortness of breath, dry mouth, weakness, confusion, abdominal pain, nausea and vomiting, fruity-smelling breath, and so on. If you are already on medicine, consult your doctor first.
Although yellow watermelon reduces blood pressure, excessive ingestion may increase the risk of hyperkalemia. Speak with your doctor if you are already taking blood pressure medication.
Where to find yellow watermelon? 
If you're looking for a great, ripe yellow watermelon, seek for melons with a creamy yellowish patch on the rind. A mature watermelon, whether yellow or red, should feel heavy and make a hollow sound when lightly thumped.
And there you have it, everything, we could find out about yellow watermelons!