No matter what they look like, bakeries already have one massive selling point that can help bring people into the store – the smell. Freshly baked bread is delicious and enticing; yes, it can bring in customers no matter what your bakery looks like. If, however, you find that customers are only walking by and that sales have started to dip, then you're going to need to do more than bake bread and pastries; you're going to need to use this guide to help revamp your design and improve your establishment's in-store branding.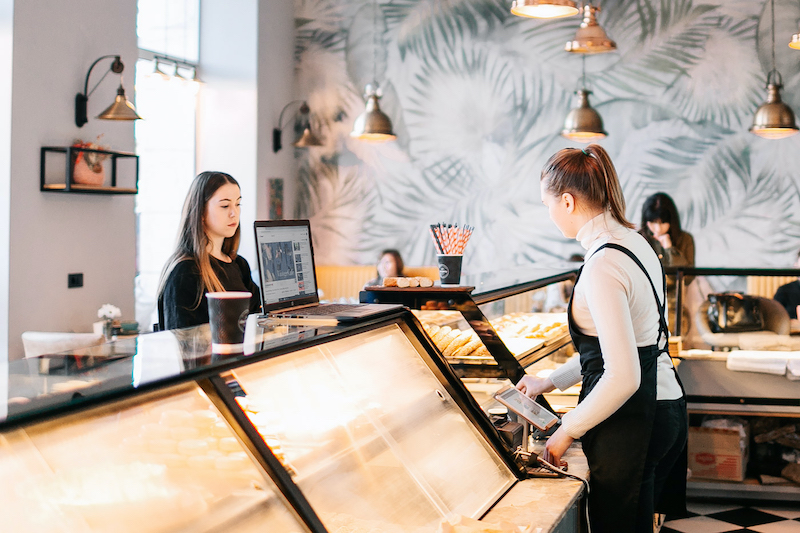 Pick a Theme
If you want to create a unique identity for your bakery, pick a theme. This can be anything from a traditional French bakery to a modern, minimalist design. Once you have a piece, everything from your décor to your uniforms can be based around it, creating a cohesive brand image.
Think about your target audience and the experience you want them to have when they visit your bakery. A well-executed theme can make your bakery stand out and create a memorable customer experience.
Use a Simple Color Scheme
Color plays a vital role in branding, and using a simple, consistent color scheme throughout your bakery is essential. This helps create a cohesive brand image that customers will recognize and associate with your bakery.
Choose colors that reflect your bakery's theme and brand personality. For example, if your bakery is known for its rustic charm, you might choose warm, earthy tones. If you're going for a modern, minimalist design, you might choose a monochromatic color scheme with pops of bright colors.
Create Your Logo
Your bakery's logo is a critical element of your branding. It should be simple, memorable, and reflect your brand personality. It should also be prominently displayed in your bakery, from your storefront to your packaging.
Hire a professional graphic designer to create something that's not just memorable but marketable. This will ensure that you have the rights to the logo and can even copyright it. You'll also get a full mockup of different versions for print, online, light backgrounds, dark backgrounds, full-sized, and small. This way, you'll have an optimized version of your logo for all scenarios.
Tips for the Uniform
Your bakery's uniform should be both practical and reflective of your brand. Consider color, style, and material when designing your uniforms.
A comfortable and practical uniform can help your staff work more efficiently, but it's also essential to consider how it looks. Uniforms should be consistent with your bakery's theme and color scheme, so customers can quickly identify your staff. A great way to accomplish both is with a full apron from aprons.com. Get these aprons embroidered with your business' logo, and you're ready.
How to Enhance Your Bakery's Décor
Décor is an essential aspect of in-store branding. Consider the layout, lighting, and signage when designing your bakery's décor. Ensure your bakery is well-lit and the layout is intuitive, making it easy for customers to navigate.
You can also enhance your décor with art, plants, and unique displays. These elements can add personality to your bakery and create a memorable customer experience.
Don't Forget Package Marketing
Packaging is an often-overlooked aspect of in-store branding, but it's essential for creating a cohesive customer experience. You can even look into merchandising. If you have a good enough logo, get it made into a tote bag, and see about making your series of reusable cups and other cafe-friendly items. This can help you market your brand throughout your community and can even help you increase your income and profits.
As for your paper or disposable packaging, consider adding additional marketing elements, such as QR codes that link to your website or social media accounts. This can help you create a more immersive customer experience and keep your bakery in people's minds.